Make a Statement with Bold and Regal Jewellery
June 15th, 2023
Statement-making jewellery is a powerful accessory that can elevate any outfit and express a personal sense of style. Bold, eye-catching pieces have the ability to draw attention and make a lasting impression. Whether it's a chunky necklace, oversized earrings, or a striking bracelet, statement jewellery can add a touch of glamour, personality, and individuality to any ensemble. Our experts have compiled a list of our favourite bold and regal pieces from talented designers available at our ornate Ontario showroom.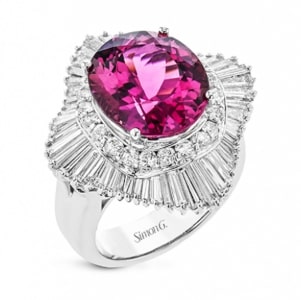 Simon G. Cocktail Ring
Bring the drama with an accessory like this pink tourmaline cocktail ring from Simon G., an exquisite example of statement-making jewellery. The regal pink tourmaline gemstone is surrounded by a lavish halo of both round-cut and baguette-cut diamonds, which adds a luxurious and bold touch to the piece. The combination of pink tourmaline and diamonds creates a stunning contrast that catches the eye and makes a lasting impression. The size of the ring and the bold design make it appropriate for any occasion where you want to make a statement. Overall, this cocktail ring is a true work of art, showcasing the exquisite craftsmanship and attention to detail that Simon G. is known for.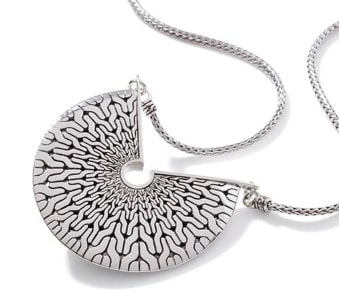 John Hardy Circle Pendant
Stun and mesmerising with this John Hardy pendant necklace in sterling silver. The hypnotizingly beautiful pattern featured in the pendant is a testament to the exceptional skill of the craftsmen who created it. The intricately woven design is both delicate and bold, featuring an array of patterns and textures that create a sophisticated effect. Its foxtail chain is a unique and elegant touch that perfectly complements the pendant, creating a cohesive and stylish look. The overall effect is simply stunning, making this pendant the perfect addition to any ornate jewellery collection.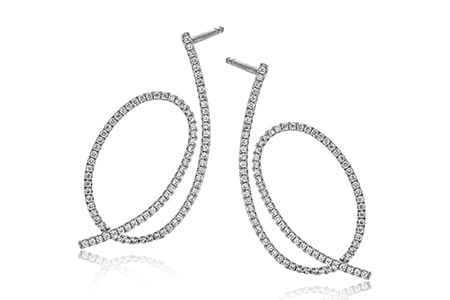 Simon G. Asymmetric Earrings
Bold earrings easily draw attention, framing your face in sparkle. These geometric-inspired drop earrings from Simon G. are truly unique and eye-catching pieces of jewellery. The intriguing shape of the earrings features a striking combination of angles and curves that create a captivating design. Their geometric shape is enhanced by the sparkling diamond accents, which add a touch of elegance and glamour to the piece. The attention to detail in the craftsmanship of these earrings is apparent in every facet of their design, from the flawlessly cut diamonds to the intricate shape of the earrings themselves. Their bold design and stunning diamond accents make them distinctive and dazzling.
John Hardy Bamboo Necklace
You can always depend on John Hardy to provide avant-garde, awe-inspiring accessories. This bamboo necklace from John Hardy is a true masterpiece of jewellery design. The sharp silhouette of the necklace creates a dazzling visual impact. The use of mixed metal tones adds to the allure of the piece, creating a unique and eye-catching aesthetic. The bamboo motifs that are integrated into the design are a nod to John Hardy's commitment to sustainability and the environment, adding a deeper layer of meaning to the piece. Whether worn as a statement piece or as a subtle accent to an outfit, this bamboo necklace from John Hardy is sure to impress and delight anyone who sees it.
Simon G. Square Bangle
Colourful enamel is bright and opaque, ensuring it will not be overlooked, making it great for use in fashion accessories. This square-shaped enamel bangle bracelet from Simon G. is a stunning and sophisticated piece of jewellery. The bright and colourful blue enamel is a beautiful contrast to the pave diamond accents that sparkle brilliantly in the light. The rose gold setting is a flattering choice on any skin tone, adding warmth and elegance to the piece. The square shape of the bracelet is delightfully unusual, making it a statement piece that is sure to turn heads. Whether worn alone or stacked with other bracelets, this square-shaped enamel bangle bracelet from Simon G. is a beautiful addition to any jewellery collection.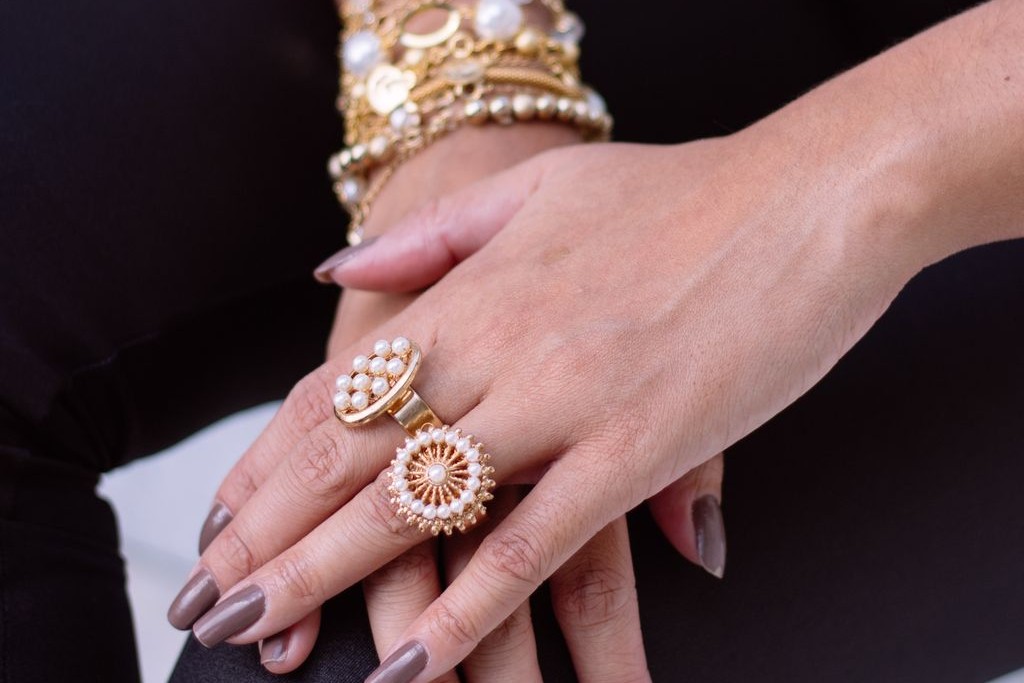 Shop Statement-Making Jewellery at Nash Jewellers
At Nash Jewellers, we pride ourselves on offering a wide selection of bold and regal jewellery in Ontario that is sure to impress. Our collection features pieces from some of the most sought-after designers in the industry. From eye-catching necklaces to striking bracelets and earrings, our selection of extravagant jewellery is truly unparalleled. Our knowledgeable and friendly staff are always on hand to assist you in finding the perfect piece, whether you're looking for something classic and elegant or something more modern and edgy. Schedule a personalized appointment at our London showroom, and discover the beauty and allure of bold and regal jewellery.