Stay In Style This Valentine?s Day With These Trending Designer Necklaces
January 15th, 2023
Whether you have a fancy date with the one you love or spending the day alone and treating yourself, you are guaranteed to turn heads with these gorgeous necklace trends. February is not too late to start your 2023 off with a bang by putting your most fashionable foot forward. Our staff have compiled four necklace crazes that are sure to wow this Valentine?s Day.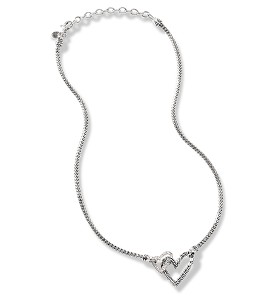 Hearts Off To You
As always, heart pendants are the ideal accessory for the hopeless romantic. These necklaces are classic and timeless, with a variety of different, exquisite designs suitable for any and every taste. Whether you prefer to rock an understated piece or make a statement with a larger-than-life pendant, heart necklaces add a beautiful accent to your Valentine?s Day ensemble.
Our experts love this meaningful heart necklace from John Hardy?s Manah collection. This pendant features two intertwining hearts, symbolising a loving relationship when two hearts come together. With a characteristically feminine aesthetic, find beauty in this sterling silver heart necklace.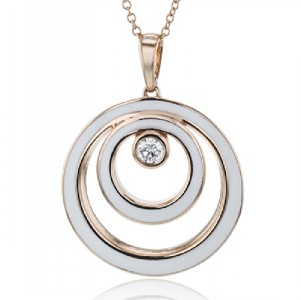 Stay Colourfully Young
Playful pendants are a delightful accent for any romantic occasion. They bring a beautiful touch of youthfulness to your wardrobe that cannot be found anywhere else. Many designers choose to use quirky materials and shapes in these designs, and enamel is a popular choice. Enamel comes in a huge variety of bright and bold colours, making it perfect for youthful, exciting pieces.
Simon G. is one of the leading designers in enamel jewellery. This circle pendant features an elegantly warm 18k rose gold metal with white enamel. Finished off with a small, round cut diamond that is bezel set, this piece is beautifully contrasting for a visually-interesting look. The style possibilities are endless with this necklace.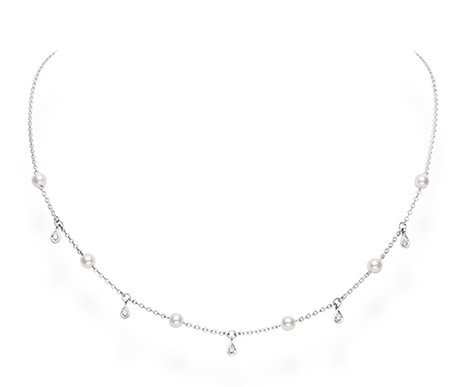 Pearl?s Grand Comeback
Pearls have been in the fashion world for centuries now, and because of that, we tend to think of them as ?old-fashioned.? However, this could not be further from the truth, thanks to the innovative designs from world-renowned brands. Symbolising purity, femininity, and romance, a pearl necklace adds a classic and refined appeal, making them perfect to accessorise with on Valentine?s Day.
Mikimoto is a favoured brand for the latest and greatest in fashionable pearl jewellery. This show-stopping pearl necklace from the Japan collection uses pearls and diamonds to artfully portray a shimmering, cascading effect. Thanks to the expertly cut diamond accents, you will be the centre of attention with every move you make. These certainly are not your grandmother?s pearls.
Bigger is Better
Oversized gemstones make a surprising statement that draws the eye. These designs are bold yet powerfully expressive, as gemstones come in all sorts of exciting cuts and captivating colours. Add a high-impact accessory with a super-sized gemstone to your date night outfit this Valentine?s Day.
Once again, Simon G. takes the cake for eccentric designs. This opal pendant from the signature SG collection makes a larger-than-life statement, with a quirky, asymmetrical cut enhanced by high-quality, round cut diamonds and 18k white gold metal. The opal gemstone also shifts colours with movement, so you are bound to steal the show with this necklace.
Discover Valentine?s Day Necklace Trends at Nash Jewellers
As a family owned and operated business for over a century now, Nash Jewellers is proud to keep the jewellery lovers of Ontario up-to-date on all the latest fashion trends in the industry. We have worked hard to carefully curate our inventory to reflect new trends and top-tier craftsmanship. Our professional staff is happy to guide you through our superior selections from only the top designer brands. Visit our London showroom for the ultimate shopping experience or schedule an appointment with our experts.