The Wonderful World of Diamond Stud Earrings
January 15th, 2022
Diamond stud earrings are deceptively versatile. The use of diamonds have allowed designers to make new and marvelous creations using a plethora of materials like gold and sterling silver. Intricate designs, colourful gemstone accents, and beautiful classics to name a few. Here is a guide to some of the best ways to utilize different styles of stud earrings.

The Holistic Halo
Ever looked at a diamond stud and wished it had more diamonds? If so, then halos could be for you. This exceptionally luxurious design adds small diamonds around the centre stone to add glitter, glam, and brilliance. A halo makes the centre stone look even bigger for added sparkle.
These stunning diamond earrings are especially bold and spectacular. These are unusual in that the halo diamonds are just as large as the centre stone, hence the ?mosaic? name. Who said stud earrings are modest? Not Simon G.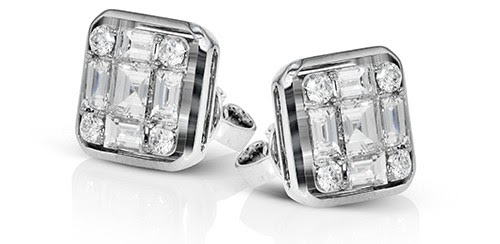 Pave Your Way
This style is close to the classic diamond stud style. With pave diamond studs, these earrings have glittering diamonds that cover every bit of a surface. This gives the piece a unique amount of shine. These are right for any occasion as a touch of shine looks beautiful no matter what ensemble is on display. These Simon G. Mosaic earrings have an interesting variety of diamonds to create a captivating tapestry. They are set in white gold and would make a fantastic day to night pair.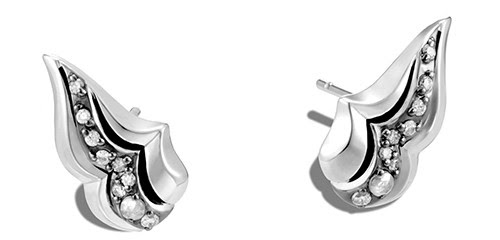 Au Naturale
While many pieces rely on diamonds as the primary aesthetic, some take a more stylistic approach. Nature-inspired diamond studs do just that by allowing them to display femininity and playfulness through fashion. These can be floral, have an animal motif, or some other representation of natural imagery.
This piece uses curves to represent a pair of butterfly wings, wherein a curved line of glittery diamonds is set in the centre. Let your inner nature god or goddess shine through with these magnificent studs.
Go Big
Sometimes you want to make a statement. Oversized studs do just that. While classic diamond studs may be dainty and demure, more modern collections contain bold pieces that are colourful and large. There are a variety of oversized studs, but each is united by their desire to attract attention and wow in the best way possible.
The Simon G. Nocturnal Sophistication Earrings use maximalist ideals to convey luxury, style, and volume. These studs contain a bed of brilliant diamonds surrounded by 18k rose gold while underneath lies 18k white gold.
Diamond Stud Earrings at Nash Jewellers
We at Nash Jewellers strive to bring the ultimate luxury jewellery and timepiece shopping experience to Ontario. Our family-operated company has been in the business for over a century. With an expertly trained staff, we offer a fantastic selection of the finest bracelets, necklaces, engagement rings, wedding bands, and other jewellery. We are pleased to offer an abundance of services, including custom design and the unique Grow Your Own Diamonds program. Visit our website for more information and call our showroom at (519) 663-1110.